About Us
Cross Country Home Services (CCHS) has provided a variety of home warranty, repair and maintenance services for more than 35 years. We are proud of our expertise in customer service delivered from centers located in Florida and South Carolina. These centers provide customer support 24/7/365. We are a company of 700 strong and growing every year.
We're equally proud of our nationwide network of more than 40,000 independent skilled service technicians who help our customers solve their problems every day.
CCHS is committed to providing excellent service experiences to all our homeowner customers. As a business partner to real estate, marketing partners and service providers, we are dedicated to growing your business as well as ours. We tailor product lines to best fit the needs of our various customers.
Work with us to make home repairs easier
Cross Country Home Services is a member of the Cross Country Group, one of the largest privately held customer service providers in the country with more than 150 corporate clients serving more than 75 million customers.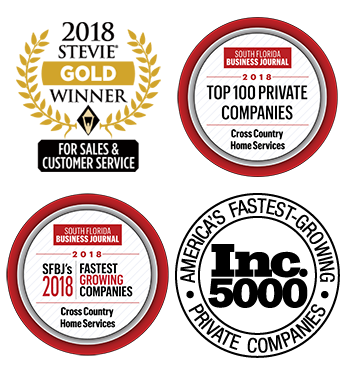 "I have used this program now for four different issues and each time the repairs were completed in a timely manner. I love this program!!!!" L.S., St. Petersburg, FL