National Survey Reveals Unexpected Home Repairs Could Push Consumers Off 'Fiscal Cliff'
Home repair costs of $2,000 or less push 62% of Americans to their financial limit
FORT LAUDERDALE, Fla. (December 21, 2012) — TotalProtect, one of the country's leading home warranty products, recently conducted a national survey that asked consumers what dollar amount for an unexpected home repair would push them off their "personal fiscal cliff." The results: more than 60% said that less than $2,000 would be devastating to their household finances.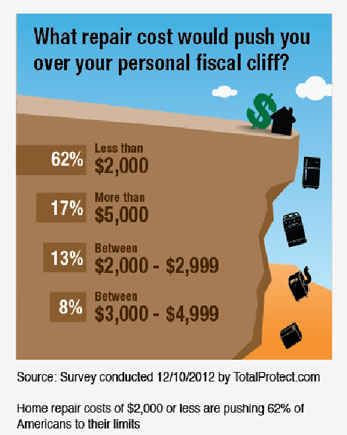 Question: What dollar amount would cause you financial hardship and 'push you over your personal fiscal cliff' if you experienced a breakdown of a major appliance or home system, such as an air conditioner, furnace, water heater, plumbing or electrical system?
Less than $2,000 61.50%
Between $2,000 - $2,999 12.90%
Between $3,000 - $4,999 8.10%
More than $5,000 17.40%
Source: Survey conducted 12/10/12 by TotalProtect.com. Results based on responses from 1,059 homeowner respondents located in the continental U.S. Confidence factor is 99% with a +/- 1.69 margin of error.
Given the uncertain economic climate, many Americans are being cautious with their household financial planning for the new year. TotalProtect is a consumer product owned by Cross Country Home Services (CCHS), one of the leading providers of home warranty products and maintenance plans. CCHS encourages homeowners to consider budgeting for a home warranty plan in their end-of-year financial planning to guard against the high costs of repairing or replacing a major home system or appliance. Home warranties cover household appliances and systems that sustain a mechanical failure due to normal wear and tear. Covered items may vary by company and plan, but typically include heating and air conditioning system (HVAC), electrical system, plumbing system, water heater, kitchen appliances such as refrigerator, stove/oven/range, dishwasher, garbage disposal, clothes washer and dryer and garage door opener.
"The results of our survey show that many Americans are not prepared for unexpected expenses and even a small dollar amount could cause a household financial crisis," said CCHS president Sandra Finn. "A home warranty can help protect a homeowner's savings and provide peace of mind in the new year."
About Cross Country Home Services
Cross Country Home Services, Inc. (CCHS) is dedicated to making home management easy by offering a full selection of hassle-free, cost-effective home solutions, including warranty products and maintenance plans. Since 1978, the company has built a reputation for excellence and today is one of the nation's leading providers of these products and services. Consumers can buy home warranties and home maintenance plans directly from CCHS or through select affinity partners in mortgage, banking, insurance, real estate and utilities industries. Products include some of the industry's best known brands, including TotalProtect Home Warranty, Home Protect Warranty and HMS Home Warranty. The company's customer care staff is available 24 hours a day, 365 days a year and is dedicated to ensuring the highest level of service. Homeowner needs are quickly resolved through a national network of over 40,000 service providers, the largest in the industry. Headquartered in Ft. Lauderdale, Fla., CCHS is a member of the Cross Country Group. To learn more about CCHS, please visit www.cchs.com.
Source:
Cross Country Home Services