Cross Country Home Services Honored With Two Silver Stevie® Awards At 2013 American Business AwardsSM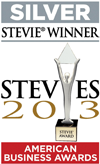 FT. LAUDERDALE, Fla. (June 18, 2013) —Cross Country Home Services, Inc. (CCHS), one of the country's leading providers of home warranty products and maintenance plans, was presented with two Silver Stevie® Awards at the 11th Annual American Business Awards in Chicago last night. CCHS was honored in two categories: Customer Service Department of the Year and Corporate Social Responsibility Program of the Year.
"This recognition by the prestigious American Business Awards is a reflection of the unmatched commitment we have to our customers and the communities we serve," said Sandra Finn, President of CCHS.
CCHS earned a Silver Stevie Award for Customer Service Department of the Year for its program to deliver 'cool' customer service despite record-breaking temperatures last summer. Over a one-week period in June, CCHS experienced a 54 percent increase in service calls, and saw a 27 percent increase in July. Regardless of the heavy call volume, the average call was answered in less than one minute and customers received same day or next-day service through the company's extensive network of over 40,000 highly qualified independent service partners located from coast to coast. CCHS was able to maintain its high level customer service standards through advanced planning, new technology and employee incentive and reward programs.
The company also received a Silver Stevie Award for CSR Program of the Year for an innovative program called OPERATION APPLIANCE AIDSM: Keeping Things Running Smoothly For Our Veterans. It provides new appliances, appliance packages and home systems to veteran and military service families in need. CCHS launched the program last year because they recognized the struggles many veterans face as a result of the disruption caused by active duty or by an injury or disability. In less than one year, CCHS has donated more than 20 new appliances and helped 10 deserving veterans and their families.
"We believe that providing a tangible gift in the form of a new appliance or home system can bring an immediate sense of relief and improve a family's everyday life," added Finn.
The American Business Awards are the nation's premier business awards program. All organizations operating in the U.S.A. are eligible to submit nominations – public and private, for-profit and non-profit, large and small.
Nicknamed the Stevies for the Greek word for "crowned," the trophies were presented to honorees during a gala banquet on Monday, June 17 at the Fairmont Chicago Millennium Park Hotel. More than 500 nominees and their guests attended. The presentations will be broadcast by the Business TalkRadio Network on Wednesday and Thursday nights.
Stevie Award winners were selected by more than 320 executives nationwide who participated in the judging process this year.
Details about The American Business Awards and the lists of Stevie Award winners who were announced on June 17 are available at www.StevieAwards.com/ABA.
About Cross Country Home Services
Cross Country Home Services, Inc. (CCHS) is dedicated to making home management easy by offering a full selection of hassle-free, cost-effective home solutions, including warranty products and maintenance plans. Since 1978, the company has built a reputation for excellence and today is one of the nation's leading providers of these products and services. Consumers can buy home warranties and home maintenance plans directly from CCHS or through select affinity partners in mortgage, banking, insurance, real estate and utilities industries. Products include some of the industry's best known brands, including TotalProtect Home Warranty, Home Protect Warranty and HMS Home Warranty. The company's customer care staff is available 24 hours a day, 365 days a year and is dedicated to ensuring the highest level of service. Homeowner needs are quickly resolved through a national network of over 40,000 service providers, the largest in the industry. Headquartered in Ft. Lauderdale, Fla., CCHS is a member of the Cross Country Group. To learn more about CCHS, please visit www.cchs.com.
About the Stevie Awards
Stevie Awards are conferred in four programs: The American Business Awards, The International Business Awards, the Stevie Awards for Women in Business, and the Stevie Awards for Sales & Customer Service. A fifth program, the Asia-Pacific Stevie Awards, will debut this year. Honoring organizations of all types and sizes and the people behind them, the Stevies recognize outstanding performances in the workplace worldwide. Learn more about the Stevie Awards at www.StevieAwards.com.
Source:
Cross Country Home Services